Fire Safety Tips for your Next Outdoor Party from SERVPRO!
5/26/2017 (Permalink)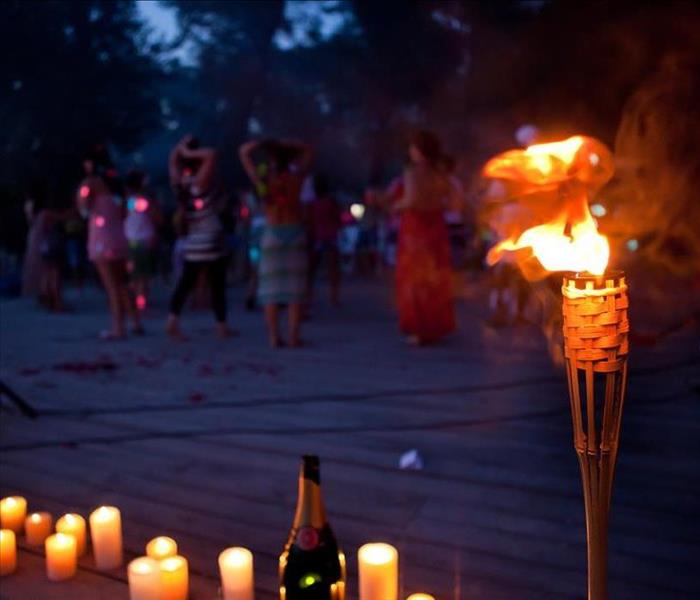 With the warmer weather we're having and summer just around the corner, outdoor parties in the backyard, or at the cottage are a delightful way to spend time with family and friends. However, safety should be your top priority when hosting any kind of party, especially when you're using open flames for cooking, lighting or ambiance. Fire sources such as candles, portable outdoor fireplaces, sky lanterns, patio (tiki) torches, and fire pits can start a fire if they're not used carefully. SERVPRO of Oak Park/Ferndale wants you to enjoy your family and friends, as well as see you all be safe, so here are some practical tips to prevent fires during you next outdoor party:
If there are children and pets at the party, always supervise them and keep them at least 3 feet away from any flames.
If the scene is decorated with burning candles, use sturdy candle holders to help prevent candles from being tipped over.
More than half of all candle fires start when objects that can burn are too close to candles. Keep flammable objects far away from candles and any other open flame.
We strongly recommend using battery-operated flameless candles and patio torches instead of their more dangerous, open-flame counterparts.
When a portable fireplace is burning, be present at all times. Or designate another responsible adult to keep an eye on the fireplace.
Keep in mind that sky lanterns are prohibited by NFPA code requirements, so consider using something safer instead, such as kites or streamers.
If you're going to make a campfire, build it in a fire pit to help prevent fire from spreading. Never leave the fire unattended, and keep a water source nearby.
If you're grilling, keep the gill at least 10 feet away from any structure and don't turn on the gas with the grill closed.
SERVPRO of Oak Park/Ferndale hopes that you'll keep these tips in mind during any outdoor party and pass them on to those who plan to host outdoor parties this summer. SERVPRO want you all to have a wonderful, safe summer. However, if you, or someone you know find yourself in need of any professional fire, water, storm, and mold restoration services, contact SERVPRO of Oak Park/Ferndale office at 248-246-0790. We are here for you 24/7, 365!